Day 01: My Current Relationship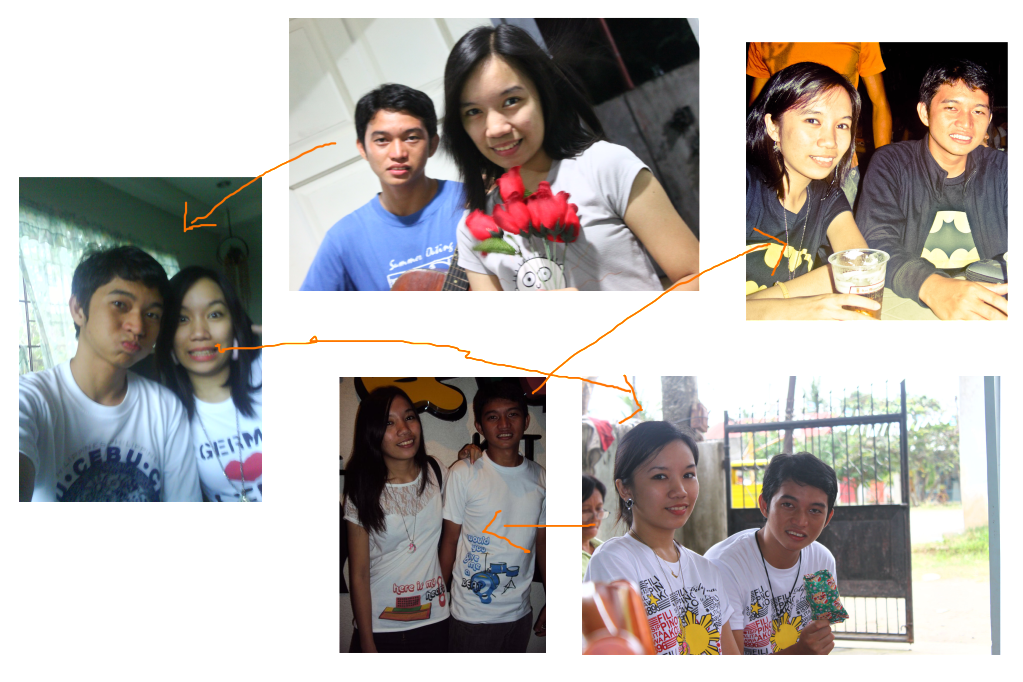 Yup! He's the one, my partner in life. Not only my current but my forever relationship. Why I am so sure about the forever there because I know that I can hold on with my relationship to him that long and even more. And it just makes me laugh every time I hear people say stuffs like
"You can't tell if you are meant forever"
when actually it's us who are making our destiny so we can definitely say it.
As you can see from the picture, arrows intersect each other to point the correct order of the pictures. The center was taken when we were not yet officially in a relationship yet we had that kind of
"corny"
picture. It was just for fun experimenting his brother's DSLR, practicing our acting in front of it and posing our best. Then, the next picture if you follow the arrow, we were already official that time. We planned to both wear shirts from Cebu since we did not have yet our own couple shirts. Then, the rest of the pictures were the different couple shirts we had bought already. The first one was a ready made, we just bought it at a department store while the second one was customized and I was the one who designed it. But now both the shirts are with me already since Jude got bigger and obviously the shirt got smaller for his size. Then, the last one, was the latest one, Batman Forever and so is our relationship, forever.
We are now a year and more, still counting and I am very blessed I found this guy. I love you,
Mark Jude Flores
!
Sincerely,