"MALAYBAlay natin magkatotoo." Actually, I am in the middle of my vampire-hours-of-work here in the Philippines since the origin of my work is from America so I'm living like them like working during sleep hours. I just want to relax for a moment and do some stretching then I remember that I am a day due of making blog which of course a very right timing. So, I therefore include blogging as part of my stretching and warm ups. I just want to share a bit of my conversation with my boyfie yesterday. I am not sure about you feeling the same way because I am super excited with it already. I told him of course my plans of buying a camera and blah blah blah and I turned gah gah gah right after he replied about some plans of going to Malaybalay so to "blessing" the new gadget (a Visayan expression). Imagined that, then after I have no other thoughts but the plan only that is why I am putting it into words rather go crazy thinking it alone the whole time.

The first photo is the Monastery in San Jose. I always have this hobby of researching before writing since I don't want to end up unprepared. Back to the thing, you know, while I was researching for the word Malaybalay, that picture is always present tickles my curiosity and that I found out that it is one of the places there. I have no more words to further add since this serves a guide by the time I visit there. Let this guide you too.

With the cold romantic atmosphere of Malaybalay or the so called "Little Baguio" of course I do want to dive for a swim in one of their springs and with my other half around I might be turning "little Baguio into little Milan".


The first one is the Matin-ao Spring followed by Nusali Spring. I am not quite sure if it is a hot or cold spring so I left the spring with no specification but I am gonna find that out soon.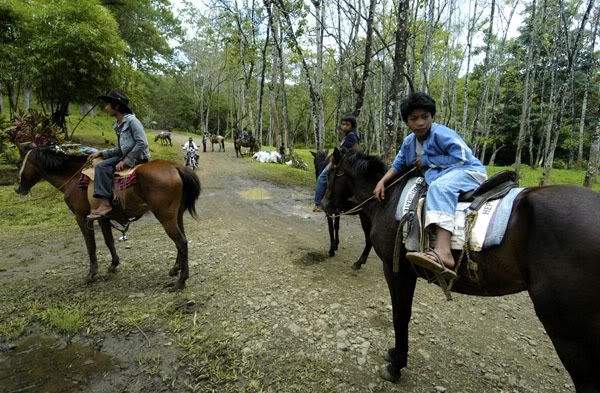 Malaybalay also offered a lot of hiking opportunities. But with the picture shown, I think it meant horseback riding. Anyhow, that is taken at Pines View Park. Well, I am not actually in the mood of riding on a living thing. I go for a science technology product - a motorbike. More fun huh?
So what you think? Do these plans remain forever a plan or be my forever Malaybalay getaway memory? Oops, timecheck back to work now.
Sincerely,