For today, I decided for a ME day to forget everything and think only of "my"thing. Of all the stress in work, sleepless nights, lack of sleep and almost stuck at home everyday, of course I deserve some reward to go out and just feel the outside world and the surroundings. And that is today and for a day only. So I carefully planned out the things I was about to do. I had a not really normal span of sleep like I slept 4am and woke up at 8am and I blamed it to my stomach for its grumbling sound had awoken me up. But at least, I was still able to compensate my lack of sleep through a dose of 3 hours so all in all a 7-hour-sleep for the day, acceptable already. And I woke up with this picture of our front yard (since it is not the backyard so I guess, front yard). The calm and friendly weather along with the green-ness of the leaves and plants seemed to agree and nod at my ME day and is awaiting for me to come out. Then, I was able to get out from the house with this.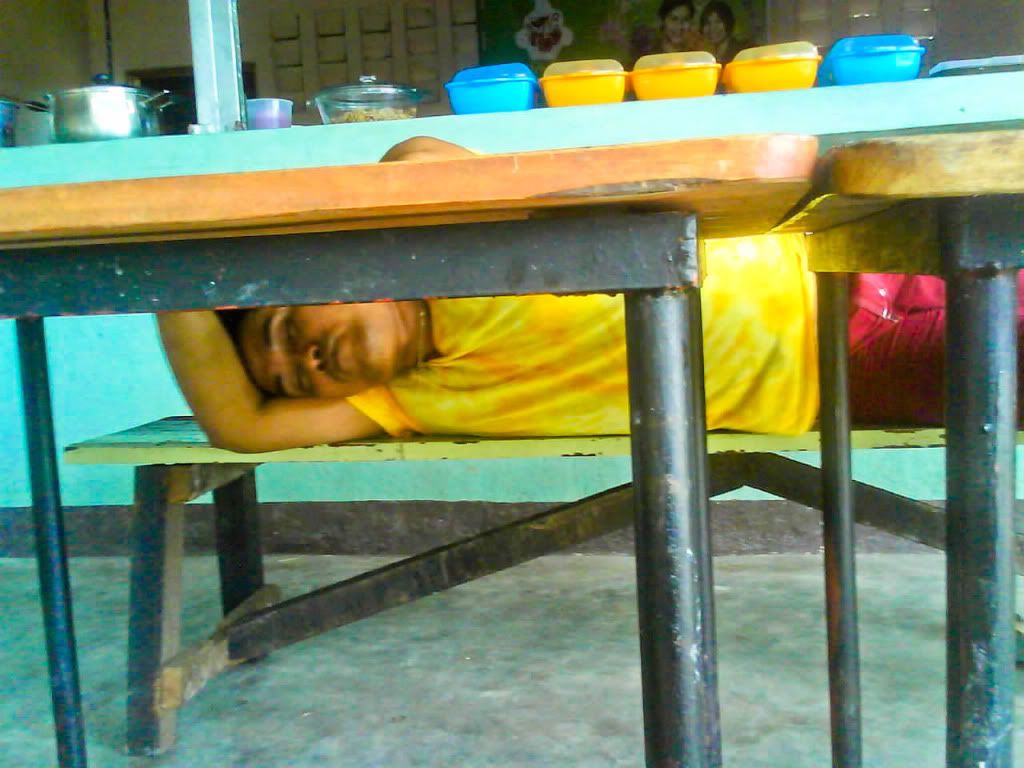 I took a picture of my cousin sleeping on one of the benches at our mini canteen. I had no intention for humiliation, bribery or anything, I just went to the flow. It was the least thing I could do to maintain my positiveness for that day.
My first stop was at Limketkai Mall. I first paid the shirt for the halloween fun 2 weeks from now. I bought it online so I need to use gcash. I am way so excited for the items will be delivered exactly tomorrow. Afterwards, I stopped at a magazine store. When I go malling, I do not limit buying to clothes and food only but also to my brains (char). I always stop by at on sale bookstore and browse through to see if there's something to read. But for this day, I chose magazine instead of books. The other thing why I am fun of buying literature stuffs aside from feeding my brain with read stuffs is for me to enhance my writing skills and broaden my vocabulary and establish my own tone and voice because I admit that I am not really gifted with writing but hey it's a skill and I can master it. And with my travel blog, I need that special skill on how to write about places. I browsed the old copies of magazine as they are a price lower from the original already but never found any for travel. Thus, the call for assistance and he handed me just what I need and I meant literally. A Lifestyle asia magazine with a huge heading of travel. I got fascinated immediately with the pictures on the cover and has a subheading of choose adventure. I liked it and bought it with my eyes closed as I handed the 195 bucks. Ouch. I intentionally went to that store to find a cheap old magazine and ended buying the new expensive magazine. Anyway, it was a thick one so I guess it was worth it.
Before proceeding to the city divisoria, I stopped for a while at Robinsons to take a look for some items and yes there were displayed already. And I am lucky to be the first ones since the said sale is still be the next day. The prices were not really that sale like 200 plus and up. I am not really the kind of person buying those stuffs and so I choose to thrift instead. But if they give me a very good reason such as a 70% marked down sale, branded and worth buying, I can give exemptions.hehe The only thing I am in the mode of buying that time was a sheer polo. What I did was to just look at the sale rock and never did I expect to find one. I found a high waist trouser shorts. And believe me or not, the original price was 900 and its sale price was only 150php. Amazing right? I even asked the sales lady herself to confirm the price. Without wasting my time, I headed straight to the fitting room and boom I got to buy it.
Though, I still needed to make an adjustments there. But I believe I can gain the pounds I loss for the past months so figured it was the right size for me.
How did I end my day? A slight turn of the letter "M" of my ME day, maybe a 180% to describe it. Because it ended with a "WE" day, catching up with a friend and the night was so not enough for all the biz and stuffs. For an overall, I enjoyed the day with great satisfaction.
Sincerely,